VITA Series
It is our series of imported machines, offered to supply an equipment that offer a good performance, with the total guarantee, service and assistance that treasures our company.
They incorporate Servosystems, that means an energetic saving of up to 80% by difference to a traditional hydraulic equipments.
Extrusion processes – injection, PET, PVC, marble effect, bi-color or bimateria, double plate for large tonnage, electric injection and hydraulic closing or 100% electrical equipment.
Efficient and Respectful with the Environment
A wide range of machines to cover the requeriments of our customers.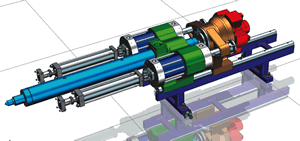 √ Two parallel injection cylinders
√ Plasticization with hydraulic motor
√ Potentiometers Gefran for all movements
√ Proportional of contre-pressure
√ Insulation for the jacket
√ Auto purge
√ Rotation of the injection unit for maintenance
√ Interface Euromap 67 for robotic
√ Euromap 13 for cores
√ Water cooling control valve
√ Two air valves
√ Two Cores
√ Oil filter with microfiltration
√ Automatic greasing
√ Stainless material hopper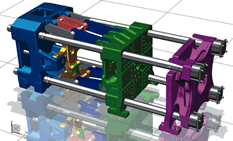 CONFIGURATION ACCORDING TO APPLICATION:
In current days, VITA – D series includes a wide range of injection machines that cover different customers needs and applications. They are:
√  VITA – D Serie J . in case of pieces of big injection volumen by means of extrusion – injection.
√  VITA – D Serie PET.  Injection of PET proforms.
√  VITA – D Serie PVC. PVC injection.
√  VITA – D Serie EH.  Injection machines 100% electric.
√  VITA – D Serie DE: Injection machines with electric injection group and hydraulic closing group.
√  VITA – D Serie DC.  For pieces with marbled effect by means of two plastifiers with a single injection nozzle.
√  VITA – D Serie DL y DD. To manufacture bicolour or bimateriel pieces by means of two independent injection units.